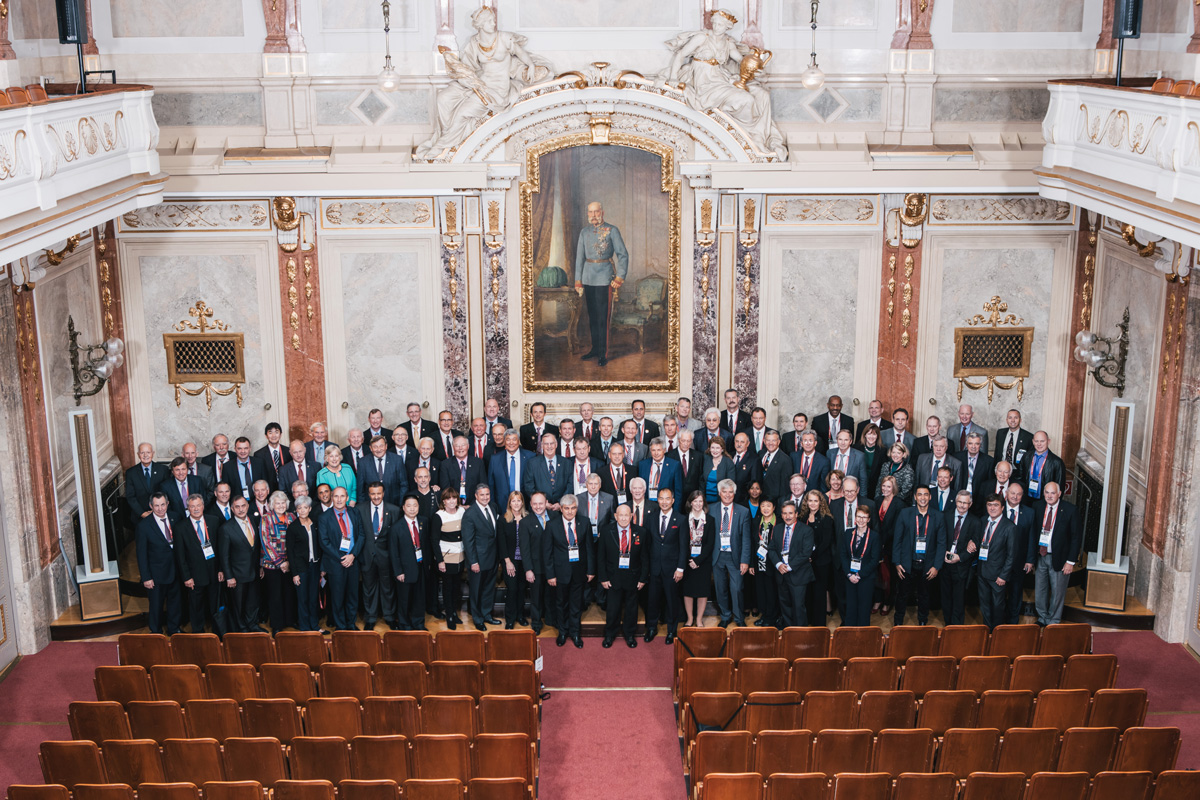 A recap of the first day of ASE29: visions on exploration, education and research.
"Born to explore" – this is the motto of the 29th ASE Planetary Congress. Born to explore – a quote which could be viewed as a reference, from human space exploration, to Mars. "Yet, the person who might take the first step on Mars is already born!", says astronaut Franz Viehböck, who is the host of this annual event, during the opening ceremony. The ASE Planetary Congress is located every year in a different county. This year Austria is hosting this event as a dedication to the 25th anniversary of the 'AustroMir' mission – remembering the first and only Austrian Astronaut who joined 1991 a mission to space.
The congress has been organized and supported by the Austrian Space Forum ('OeWF), in  cooperation with the Asssociation of Space Explorers. This annual reunion follows the deeper aim of establishing a fusion between investors, researchers and space enthusiasts, but also thrives to motivate and encourage children and students, to enroll in STEM programs and become a part of space exploration. Therefore Viehböck also references to the Community Day, which will be hold on Wednesday 5th October and embedds more than 130 events all over Austria:
"We will visit universities and schools and try to distribute our mission 'Born to Explore' to young people and their curiosity for science."
"Many of the technologies we use in our daily life have been originated in space."
, says Jörg Leichtfried, Federal Minister for Transportation, Innovation and Technology. He highlights some examples, ranging from satellites to thermic isolation systems. According to him, Austria is a small country, but adds big value to the Space Industry.
"Yes, we will not build our own rocket – but we are able to provide support technologies."
Even the Rosetta mission, which ended last Friday, was using Austrian key technologies.
The first technical session of the ASE conference was hosted by Dr. Pascale Ehrenfreund (German Aerospace Center) sharing her perspectives on Future Space Industry, and Dr. Andreas Geisler (Austrian Research Promotion Agency) adding a view on Austria in Space. According to him, it is unlikely that Austria starts an initiative such as "Die Astronautin". Nevertheless it is worth mentioning that one of the Analog Astronauts of the Austrian Space Forum – Carmen Köhler – enrolled in the German initiative, and combats as one of the last 90 aspirants of the program. Claudia Kessler is presenting the project which aims to send the first german female astronaut to space. The purpose of Kessler is first to encourage young girls to work in scientific fields, and further to increase the number of female astronauts in general. More than 400 women applied for the program which now is challenged by the task to filter out multi-diverse potentials.
The session is next conducted by Oliver Juckenhövel, holding a keynote on how 'Airbus Defense and Space' reaches today for the business of tomorrow. Mike Fincke sums up current and future human spaceflight focusing on commercial crews, followed by Astronaut Tony Antonelli  (Lockheed Martin), who holds a speech on how to send humans to Mars. He starts summarizing the steps of Mars exploration and says
"For as long as I can remember – it has always been 30 years until we start our first manned mission to Mars. But – the vision matters."
Finding life elsewhere would be a defining moment regarding Mars exploration. Afterwards, Antonelli shares some thoughts on how Mars exploration should be conducted, and ends his talks with this vision:
"There will be moments which will be milestones in a generation. Certainly they will be moments of the next generation, but they also can be moments of our generation. We can make this happen in our lifetime – together!"
Fascinating panel on commercial human space-flight with @HESpaceCEO @AstroIronMike and @CommanderMLA . #ASE29 pic.twitter.com/PMvcaFlf1c

— Joao Lousada (@Astro_Joao) October 3, 2016
Michael Lopéz-Alegria promotes the vision of investing more and more into commercial spaceflight. He first states the perspective of having an increased number of commercial spaceflights to the ISS in the following four years. Furthermore, he envisions building up the 'Axiom Station' – a commercial Space Station, which might shape a different way of space exploration, which allows governments, private companies, and individual explorers to work in Low Earth Orbit commonplace.
Most of our audience are space flyers. #ASE29 #BornToXplore https://t.co/2QWcmjblNe pic.twitter.com/Xn3iwwIWFq

— Karen Lopez (@datachick) October 3, 2016
The day closes filled with enthusiasm, inspiring concepts, and future perspectives on how human spaceflight should be conducted in the following years. Shared visions are shaped by the integration of multinational programs, a diverse number of astronauts, resulting from different working backgrounds and nations. Commercial spaceflight plays an increasing role among governmental programs, such as programs focusing on supporting female astronauts. The second day of ASE's Planetary Congress will be dedicated to young researchers and their ideas on space exploration.
We're done with our Tech Sessions for today. The Congress resumes tomorrow at 9:00. Have a nice evening! #ASE29 #BornToXplore

— ASE (@ASE_Astronauts) October 3, 2016
by Alex Hofmann (OeWF)
More about the XXIX Planetary Congress