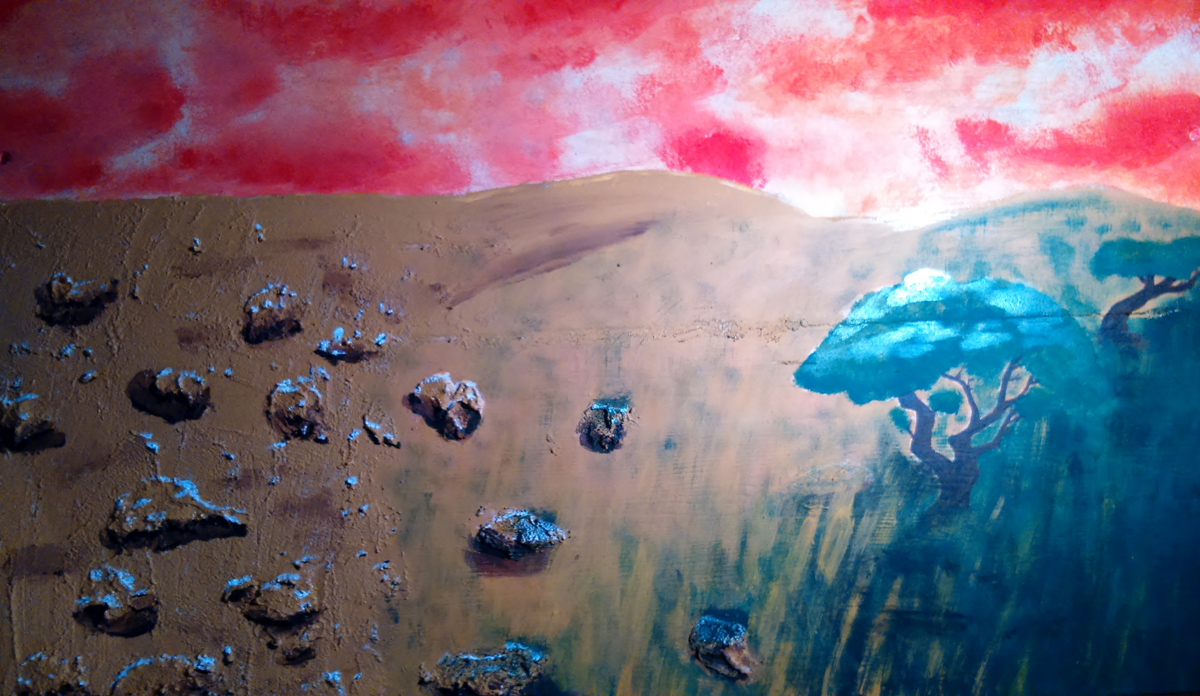 The first human to land on Mars has already been born. Together with Franz Viehböck and the Bundesministerium für Verkehr, Innovation und Technologie (Ministry of Transportation, Innovation and Technology) we invited pupils and students of Austrian schools and universities to participate in the contest "Born to Explore". They had a chance to propose videos, poems, paintings, presentations and more to showcase their visions and potential projects for future manned space missions. An ÖWF Jury selected the best entries out of more than 100 submissions. This is a small sample of their fantastic ideas:
Main award:
L
eon Sereinig and Matthias Kaplan
present their
project "Myga"
for the colonisation of an exoplanet. It is a generation ship, population 2000, and is en route to a planet 11 lightyears away, in the year 2060. The voyage is expected to take 160 years. Of course, things go wrong and a fault in the navigation system causes the ship to miss its target. They describe in rich detail the necessary preparations before the flight, the difficulties to survive such a long trek, and what to do in case of eventual mission problems.
After 415 years, spanning 7 generations, 2500 people who don't know life on Earth arrive at a planet 50 lightyears away. The planet provides opportunities for the settlers to survive, grow, and eventually colonise.
Leon and Matthias focused on the potential of the mission, including feasibility and practicability given the limitations of the destination planet. We especially liked that it wasn't just a fantastic story, but contained a well though-out mission description including all the necessary auxiliary aspects that are easily overlooked.
Michael Berghold submitted a 3-minute video detailing the colonisation of a planet with extremely cold temperatures. His focus is on Europa, one of Jupiter's six moons.
Michael emphasises the self-sufficiency of a potential colony, explaining how prototypical reactors could help. Especially Fluid Salt Breeders and Fast Stirling Reactors can be used to synthesise core elements like oxygen and hydrogen from the ice crust. The idea is to create a self-sustaining colony which can explore the oceans underneath Europa's icy crust. These oceans are considered hot spots for extraterrestrial life under extreme conditions.
We especially like Michael's submission because of the consistent and well thought-out implementation of the mission, exploiting novel technologies and going beyond what conservative funding agencies would support, a true star trek.
Outstanding achievement award
H
annah Beckmann
, who is interested in both the arts and astrobiology, is awarded the outstanding achievement prize. She sent a picture, titled
"The Evolution of Mars".
For her, the terraforming of Mars should be seen as a kickstarter for a new kind of evolution. New kinds of microorganisms, algae, plants could grow and strive, and be completely indigenous to Mars.
Meet & Greet
M
oritz Stefan, 16 years old, won one of the sought-after Meet&Greets for his wonderful English presentation about the colonisation of an Exoplanet. He split his presentation into four sections:
Exploration – Unmanned exploration of the planet, to gather relevant data to make a decision on the must succesful way of colonisation.
Terraforming – Identification of problems which can be solved through terraforming, for example, pressurisation, extreme temperatures, or the procurement of water and food.
Genetical Engineering – There are problems which cannot be solved through terraforming, for example, more efficient photosynthesis. Through advanced genetical engineering this process can be accelerated to create a habitable surface.
Technological Solutions – Human safety, ballooning of habitats, or similar solutions for pressurations are important for Moritz.
Eventually, his wish is that the colonisation of another planet is seen as an opportunity to bring out the best of people and serve as an example of doing good for humankind.
We received a lot of great and creative submissions for the Born to Explore contest. We are also really really happy that a lot of school classes participated, for example, the NMS Telfs, the Europagymnasium Auhof Linz, or the Volksschule Körnerschule from Carinthia.
Unfortunately we cannot present all works, that would take just too much time.
However, we would like to recognise our youngest submitters, aged 6 to 11. They revealed what they would take with them on a long journey through outer space. Of course, there are the usual suspects: mum, dad, books, but also a fridge, vegetables(!), boardgames, peanutbutter, chocolade and of course typical Austrian Semmel (Kaiser rolls).
Some also take their pets with them. Especially cat Figo has become our favourite. ☺
All winners have been informed via email already. Sincere congratulations to all of them!